Reviews and Photos
See and hear from our satisfied customers!
Customer service is our defining factor. We pride ourselves in making sure every need is met and every expectation exceeded.
Don't take it just from us! Hear what our clients have to say with our lawn care reviews and about our lawn care services.
Get Your Custom Quote
THANK YOU FOR CONSIDERING US!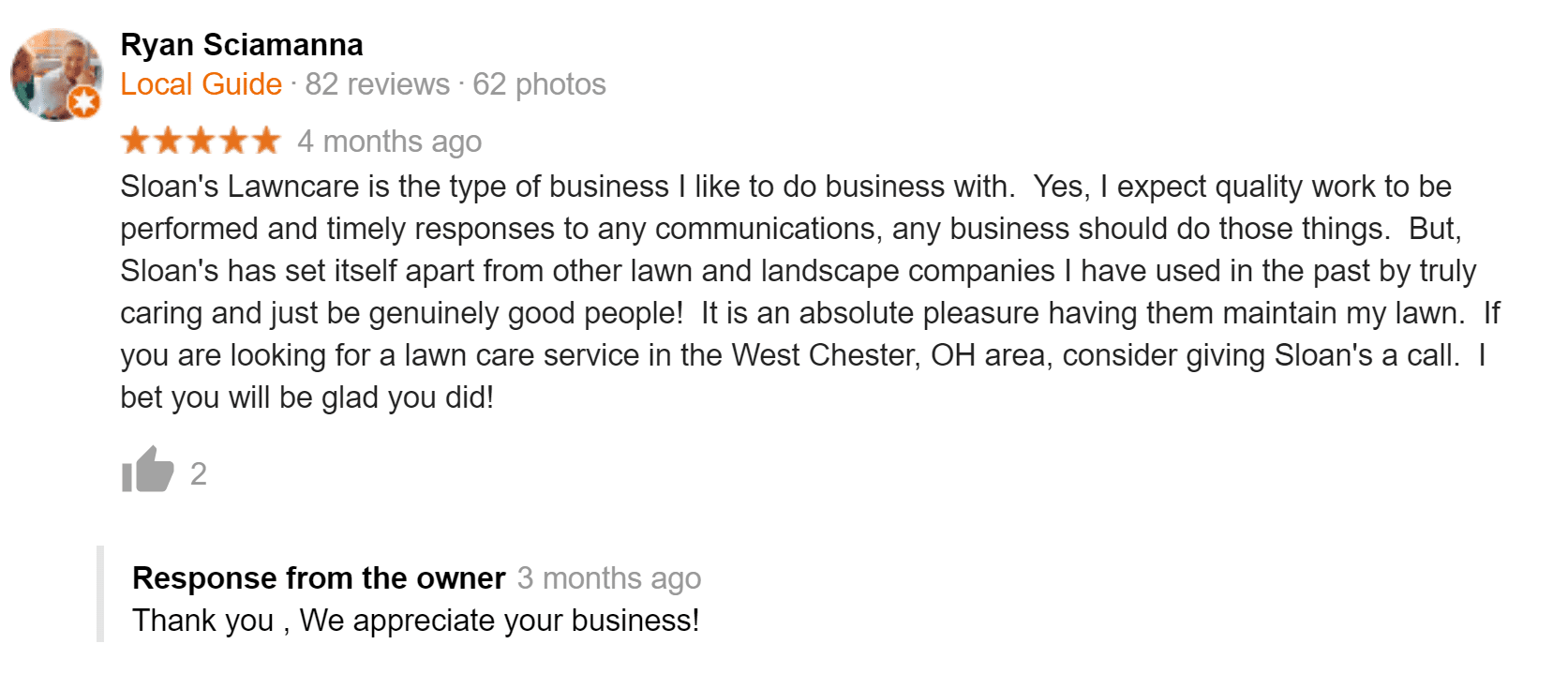 Wow! What a great job and great service! Our lawn looks better than EVER! Our lawn looks great! Sarah and Chris were fantastic and very professional! Thanks guys!
-Lynda D.

Awesome company! Great service! I highly recommend them! Keep up the great job!
-Sarah J.


If I could give more than 5 stars I would. Excellent service. Always on time and greets you with a smile. Highly recommend this Chris and his team.
-Matthew P.

Sarah and Chris are very professional. My lawn looks awesome! Thank you bunches.
-Ashley C.

ABSOLUTELY LOVE Sloan's lawn care and there dedication to always succeed to my expectations! Very friendly and get the job done which is all I can ask for.
-Makayla B.


Sloan's lawn care does awesome work! Thanks for making my lawn look great! Keep up the hard work!
-Darian C.

Thank you for doing such a awesome job!
-Cory C.

Been using them for about 2 months, A++ work and affordable!
-Ken F.
Contact Us For Your Free Quote!

If you are in need of a lawn care service in Trenton, Monroe, West Chester, Mason, or nearby on the North Side of Cincinnati we would love a chance to earn your business.  We specialize in offering affordable lawn mowing, pruning, mulching, and other common lawn and landscape services without sacrificing quality or attention to detail and with a focus on personal relationships.  Our goal is to be the last lawn care company you ever need.